Collaborating with Godzilla Photo Essay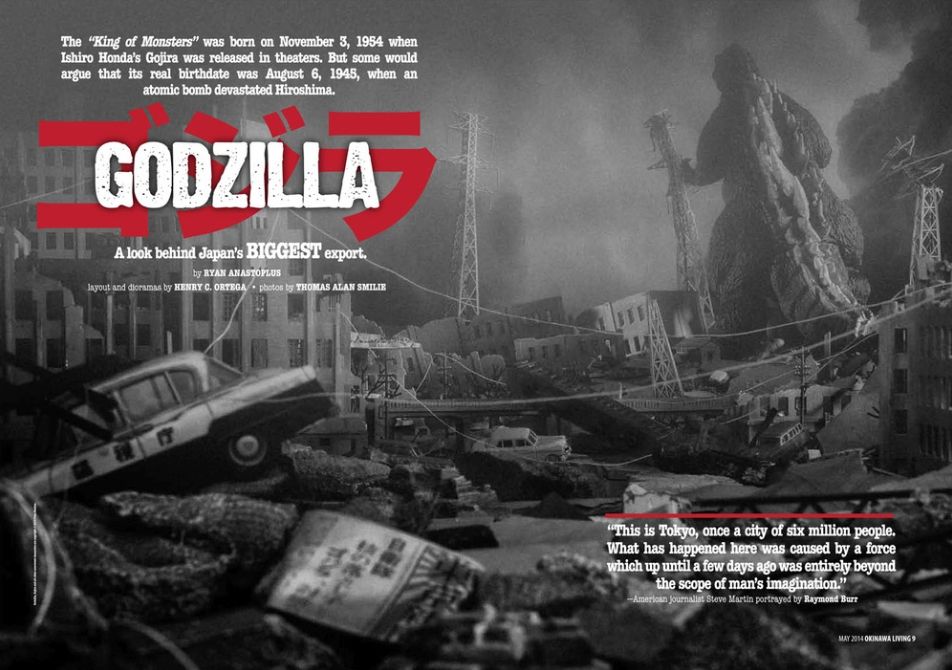 Working in marketing and communications departments has allowed me to collaborate with many talented artists, designers, and photographers over the years.
In 2013 I was shooting for Okinawa Living magazine, a specialty culture magazine produced for the U.S. Marine Corps and their families' station in Okinawa, Japan.
The magazine's art director, Henry Ortega, came up with the idea to do something special in honor of the 60th anniversary of the first Godzilla movie. He wanted to build a diorama set, recreate scenes from the original movie, and photograph them for a special feature in the magazine. I had never shot dioramas before, so when Henry approached me with the idea, I had to do a lot of research to learn how to pull this off.
The idea of building a diorama, let alone a replica of 1954 Tokyo, seemed challenging. Still, fortunately for readers and me of the magazine, Henry was up for the challenge and set out on a year-long journey to research, draw schematics, and finally build the amazing miniature set needed for the shoot. The issue came out in 2014, the 60th Anniversary of the 1st Godzilla movie.
In the end, I think I had the easy part, but we were delighted with the results. Some thought we had obtained still shots from the original movie.:)
I saved the best for last. Watch the video below for a behind-the-scenes look into the small diorama city Henry build we used for the shoot.
This project was one of my favorites, and I had so much fun.
I found out years later that Akita Takarada, one of the actors from the original movie, saw the magazine feature and assumed the photos came from the movie. He was curious about where we got them. 🙂
Henry won an APEX award for the layout and design.