using-ai-to-create-blog-photo-based-on-contetn
Create Images for Blogs Based on Content
Recently, I saw a thread on Twitter from
markbowley.me
about using graphic patterns in place of photos for a blog post. Mark's approach works really well, especially since he's a graphic designer.
One of the comments mentioned the chore of choosing a photo, and a graphic pattern is much easier.
While I like the graphic idea very much, it made me wonder, could current generative AI be used to solve this? Can we use the blog content or a paragraph from the content as the prompt and generate a usable image that works for the blog post?
Selecting a photo for your blog post or website is a chore for some, but it's one of those elements that can make or break the content. It's also a task that can be time-consuming to do, especially if you're not a photographer or prefer to avoid scrolling endlessly on Unsplash or stock photography websites.
New generative AI tools, however, may provide a way for you to quickly and easily solve this. Generative AI tools use prompts and images to generate new content. What if you take your blog post or website text and paste that in as the prompt?
I decided to try. Below is what I got using Stable Diffusion when I posted the opening paragraph as the prompt. I only added "imagine the chaos of " in the front to imply frustration. I added a layer and typed the question mark afterwards.
It's a rough idea, but I only spent about 2-3 minutes testing, so I suspect I could do better with practice, but the AI will also get better in time.
I wonder if this is an idea for an app or plugin?
I also wonder if a generative AI app or chrome plugin made specifically for this would produce better results?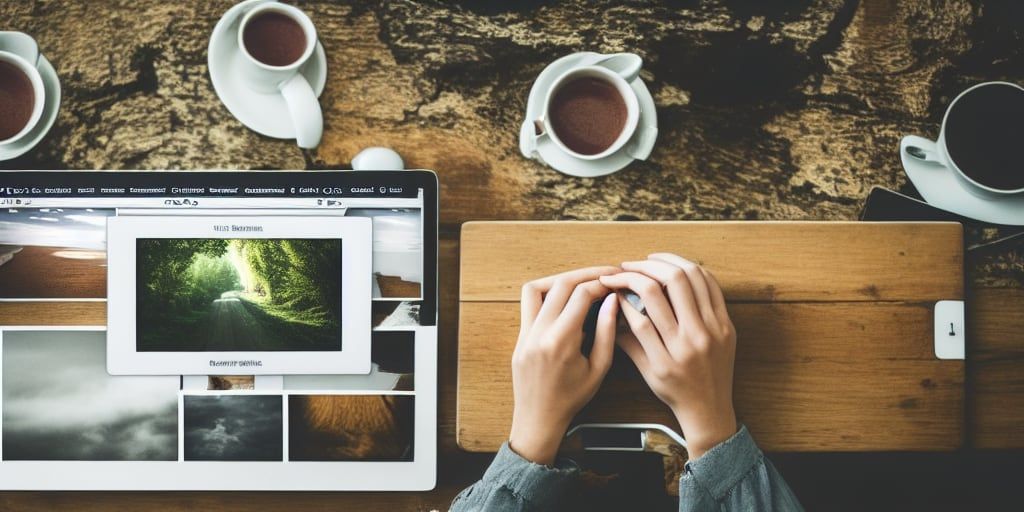 While it could be better, one of the images is usable (top one) based on the main idea of the content, how it can be time-consuming and sometimes overwhelming to look for the perfect photo(s) to match.
I'm a photographer, but I'm super excited about the future of collaborative tools like this, and I just thought I'd share my thoughts.
Thanks for stopping by today.
Coffee & Curiosity | Creative Technologist | Photographer | Mixing decades of business insight and tacit knowledge with philosophy and the latest in tech. Ever an early adopter, forever a student.